25. GUIs for our Queens¶
We solved the N-Queens problem in an earlier chapter. Now we'd like to draw the boards for the solutions as we find them.
This chapter also takes us quite a bit deeper into WPF: we'll learn how to have and manage more than one window in our application, and we'll learn how to create visual controls in those windows from our C# code, rather than the usual way — from the XAML or the Designer in Visual Studio.
Along the way, our two underlying agendas remain:
To become more familiar with objects: how we create and manipulate them, their states, their properties, their events, their lifetimes, etc.
To build our algorithmic skills with loops, arrays, conditionals, and events.
In our earlier N-Queens puzzle-solver each solution was represented as an array of ints, like this: [6, 4, 2, 0, 5, 7, 1, 3].
Our goal now is to create a new window for each solution, and draw the boards, like this screen shot which shows two solutions for 8x8 boards, one for a 12x12 case, and one for an 18x18 case.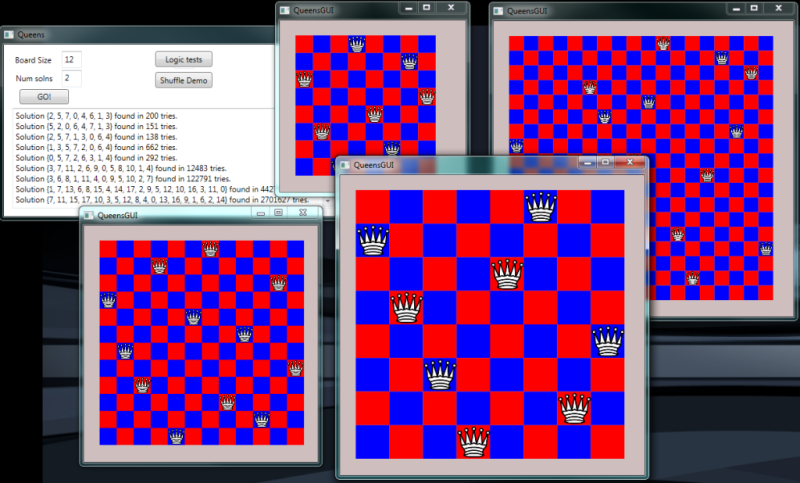 The 8x8 board consists of 64 rectangle objects that are placed and positioned on a canvas. Then we place 8 image objects on the canvas too, to draw the eight queens.
We can't do this statically in the XAML because we don't know ahead of time how big the board is going to be, or where the queen images need to be placed. So the correct number of rectangles and queens, and their sizes and positions can only be determined dynamically (while the program is running) — i.e. we're going to have to write some loops in our code to create these objects as each solution is found.
Like our previous canvas objects, we'll also make this canvas stretch when the window is resized. So whenever the canvas changes size, we'll have to recompute and adjust the positions and the sizes of all the rectangles and all the queens. Take another look at the picture above: one 8x8 board is a lot bigger than the other 8x8 board, because we resized its window. That means its rectangles and queens need to be bigger, and positioned differently.