Venue
Blue Lagoon Hotel & Conference Centre - Overlooking the site where the Nahoon River meets the warm Indian Ocean, the Blue Lagoon lies nestled in indigenous, sub-tropical foliage. Easily accessible and close to central East London and inland areas, the hotel offers tranquility and seclusion from the bustle of city life.

Accommodation
The hotel offers 4 Executive River Facing Luxury Suites, 36 River Facing Luxury Suites and 67 Standard rooms.
The following rates are applicable for the conference. Please state that you are a SAICSIT delegate to obtain these rates.
Single room including breakfast - R925 per night
Double room sharing including breakfast - R650 per person per night
To obtain these rates, please email the Conference Centre at reservations@bluelagoonhotel.co.za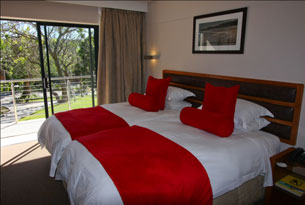 Bed & Breakfasts
Below are some B&Bs that are within walking distance to the hotel:
Reef View BnB (Tel: 082 357 6726)
Blue Bend BnB (Tel: 043 748 2622)
Sounds of the Sea (Tel: 043 748 4383)
Airport Shuttles
Airport shuttles are avaialble from Norman's Shuttle Services (Tel: 082 259 8885).
Location